At INCOD, we have developed a solution that allows you to capture, control and consult all the information of the winery through mobile terminals that facilitate maximum mobility to the user. In this way, many processes can be optimized by providing many advantages to the system.
The solution falls within the scope of international regulations regarding the identification and traceability of products, GS1 standards (formerly EAN).
VINICON adapts to each of the particularities of each winery, and the most important thing is that it allows you to expand and customize according to the needs of each.
VINICON is structured in different modules, which can work independently or interact with each other.
VINICON improves logistics management

An easy functionality allows to train the users in the minimum possible time, avoiding the problems by rotation of personnel.
Process optimization allows you to be more efficient, this is achieved with a good definition of operations and good information management.
The possibility of making any operation or query of information through a mobile terminal, makes the system much more agile than any other.
Good traceability means having reliable stock information, with good tools it is easier to optimize, this translates into cost reduction.
Well-defined operations avoid errors in handling.
Process optimization and automation
General graft of the system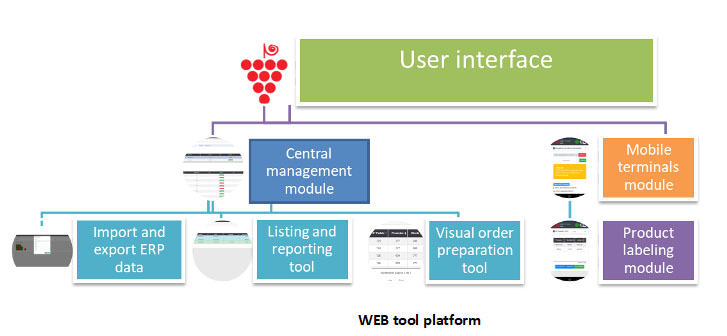 (Check customer orders, internet payment, orders, etc.)
Hardware for identification and traceability
Android and iOs mobile data capture terminals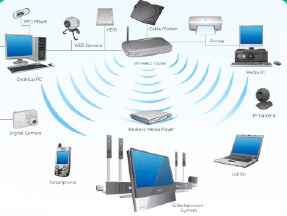 Wifi access point infraestructure
Label printing with thermal transfer printers and RFiD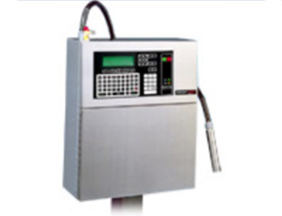 Direct laser marking or inkjet
Printing and application of labels with automatic markers
Reception and location of raw materials
VINICON allows to control the entry of raw materials through a software application that runs on mobile terminals.
Some features:
• Verification with purchase order
• Option to re-label material that is not directly labeled
• Possibility of location control
• Connection to the Customer Management System (ERP) to share order information and receive material.
Production control and labeling
VINICON allows you to control the marking and labeling of products throughout the production chain.
Some features::
• Planning of manufacturing orders for different production lines relating them to raw materials.
• Manage manufacturing batches by assigning to different manufacturing orders.
• Report reports of labeled products to the customer's ERP.
• Labeling of pallets according to GS1-128 regulations (formerly EAN-128).
• Marking and labeling management at different levels:
– Products
– Grouping or box
– Pallet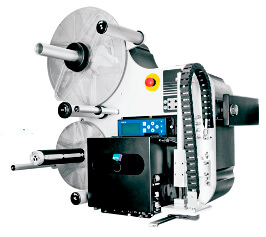 Finished product warehouse
VINICON has a finished product warehouse manager.
Some features:
• Validation of labeled products using a barcode reader or RFiD.
• Report information to the customer's ERP product entries in the warehouse.
• Possibility to manage different warehouses from a single application.
• Management of warehouse locations (additions, deletions and modifications).
• Possibility to assign an automatic location to the warehouse.
• Possibility to consult the stock in real time.
VINICON allows you to control the shipment of finished product.
Some features:
• Checking the product on order.
• Information to the user of the location of each product of the current order.
• User control to limit access, it can be recorded that each operator manages each order and order time made.
• Possibility of associating an order with a carrier and a vehicle registration number.
• Possibility to consult the real stock of the finished product warehouse.
Global process traceability
This software allows to trace a product and its materials of packaging according to his batch of manufacture.
Some features:
• From information generated by all modules allows to give information and generate lists of products, batches, orders, etc.
• Possibility to know to which customers a certain batch of manufacture has been sent.
• Possibility of knowing in which batches of manufacture a concrete batch of packaging material has been used.
• Possibility to know which pallets / boxes are part of a manufacturing batch.
• Possibility to make reports (Excel, database, etc ..).
Download the specifications in PDF
Request information from the integral traceability for wineries